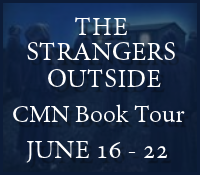 Short stories can be a lot of fun to read. Vanessa Morgan's 'The Strangers Outside' is no exception.
Two sisters, Louise & Jennifer, are vacationing together. Innocent enough, right? Wrong. As they proceed to their quaint cabin, they soon discover things are not on the up and up. Stealthy assailants have made themselves known to the girls. When instinct kicks in, will the sisters be able to outsmart this band of mysterious figures or die trying?
Vanessa Morgan has created a tale of frightening mystery that I honestly read straight through. The only fault I could find was that it wasn't long enough! There's something you won't hear often in a book review! But, I loved it. The characters were fantastic & I had no idea where the author was going with the plot until the end. 'The Strangers Outside' is everything a short story should be from start to finish.
A scary good 5 of 5 stars for this one!
You can see for yourself with a giveaway from Vanessa Morgan & Charisma Media! See the Rafflecopter below.
a Rafflecopter giveaway